Home || Bio || Publications || Studio || CDs || Photos || Contact || Custom Drum Tracks || Audio Examples || Humor || ZIT ||
Custom Drum Tracks by Mike Myers
Providing CD-quality drum and percussion tracks for album projects, jingles, motion pictures, trailers, video games,
demos, or any other audio production at an affordable price. I have over 40 years of music experience,
on both sides of the mixing console and I am well versed in many musical styles.

"I can deliver professional quality drum tracks for Pro Tools, your sequencer or digital audio workstation."
The Advantages of Using Custom Drum Tracks
I provide professional drum tracks to clients located all over the world without leaving my personal studio.
You pay only a fraction of the cost of hiring a session drummer in a commercial studio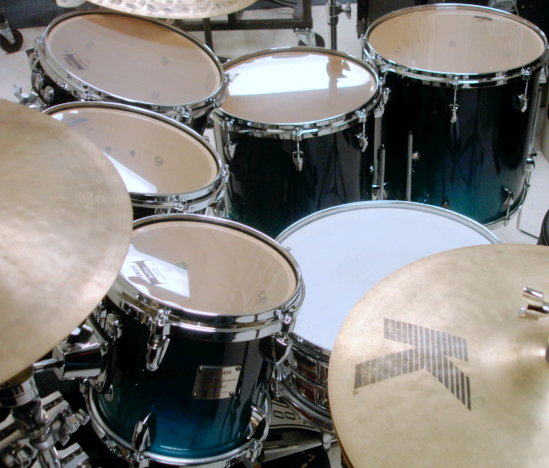 There are no fees for equipment transport, setup, studio rental, or engineers
I have the time to commit to making your project a success rather than hurrying to finish it up and get you out the door.
You get a preview track for listening and suggesting revisions before receiving the final product.
You get a great drum track which will set your music apart from other albums that feature wimpy drum machines and loops.
I will select the ideal drum and cymbal choices to perfectly enhance your music. I have a Yamaha Maple Absolute drumset, Roland TD-20 V-Pro Series kit, a ton of cymbals as well as several commercial and custom-made drum libraries of most every imaginable drum and percussion instrument from the past 50+ years in my
studio
.
The Process
In order to initiate the recording process, I need a "scratch" audio file from you, preferably with a drum machine track if you have a specific type of groove or fill in mind. I also need another audio file of high quality (AIFF, WAV, or Sound Designer II) to use for recording that doesn't include drums. A metronome click and any time code information that you can provide is beneficial if not vital.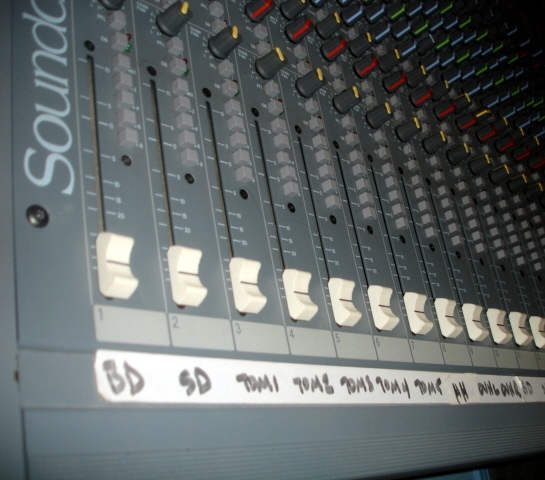 The more detailed notes I receive from you, (including metronome marking) the better job I can do with my interpretation of your music. This can be done in a combination of: email, phone call and/or a teleconference using iChat or Skype.
Once I have the materials and information needed, I will record my drums and send you a reference MP3 for approval. You review the MP3 and communicate any revisions which need to be made. I then record the revisions and prepare the final tracks which I will post to my secure studio server for you to download. I can also ship by US Mail, UPS or Federal Express (for an additional charge). The entire process doesn't take any more than a few days, depending on length or difficulty of music.
The combination of drum tracks I provide:
Kick
Snare
(stereo) Toms
Hi Hat
(stereo) Cymbals
(stereo) Overheads
(stereo) Room Mics
Or, if you want, I can provide a fully mixed, e-qed stereo track which has effects and is specially balanced with your tracks.
I do not charge extra for use of my plug-ins or outboard effects.
Rates
I offer competitive rates, beginning at $125 for a song that is less than five minutes. I offer a discount for multiple CD tracks or multiple TV and film audio cues. Payment is easy and secure through PayPal. (if you don't yet have a PayPal account open one here. It is very easy).
"I'll give you the best quality performance that will rival or beat what you'd pay for in a commercial studio."

Please visit my Audio Examples page and listen to the work I have already done.
In order to get started, please contact me and let's get to work making your music a hit!
FAQ
How Do I Send Music To You?
The best and quickest way is to upload it to my secure studio server. Once we make contact, I'll email you uploading information. The other way is to send me a CD via UPS, Federal Express or US Mail.
What Do You Do With My Tracks?
First I listen to your tracks and decide what drums and cymbal choices are appropriate for the style of music. (You don't want metal drums on a country song nor do you want a be bop kit on your pop tune). After I decide the right drum sounds, I carefully begin crafting a drum track which best compliments your artistic effort.
What If I Want To Make Changes?
No problem! Its your music and I want to make you happy. After I do the initial drum recording, you receive an audio track for preview. Then we communicate either by email, phone call or video conference in order to make the changes needed to please you. The standard rate includes one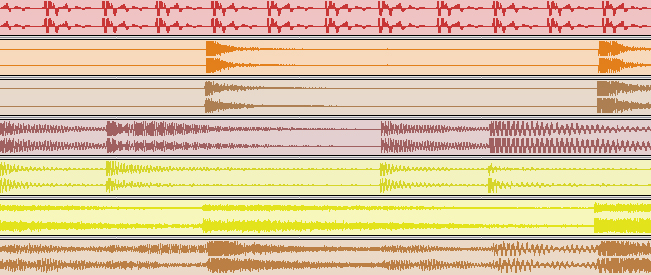 revision which may include multiple edits. Additional revisions are $25 each.
What Will I Receive From You?
You will receive either individual drum tracks: Kick, Snare, (stereo) Toms, Hi Hat, (stereo) Cymbals, (stereo) Overheads, (stereo) Room, and/or a complete stereo track which contains the full drum mix either with or without effects; all from my secure ftp studio server.
Are Your Drum tracks CD-Quality?
Listen for yourself on the Audio Examples page and decide.
Is It Possible to Include Additional Percussion Instruments?
Yes! I can add tambourine, shakers, congas, bongos, cowbells, wind chimes, etc. and I have an enormous library of great samples including keyboard percussion, orchestral percussion, gongs, world instruments, etc.
What Audio Format do you use?
MP3, AAC, WAV, AIFF, and Sound Designer II
You can import the files I send to any type of DAW, sequencer, etc. that supports these file formats.
What If I Have a PC and You Have a Mac?
No problem. These audio formats are interchangeable between computer platforms.
What Is The Cost To Record My Music?
The basic rate is $125 to record drums on a song that is under five minutes. Songs of unusual complexity or additional length are extra. See Rates below.
How Do I Pay?
I request a 50% payment up front (preferably via PayPal) and then the remainder of the balance when you approve the final product.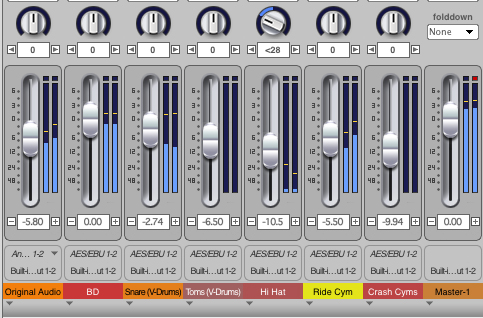 Who Owns The Rights To This Music?
You do! I am merely a "hired gun." You own the copyright and retain all rights to distribute your music anyway you want.
Who Do I List In My Album Credits For Drums?
Mike Myers at mikemyersmusic.com (and thank you!)
How do we get started?
Contact me, mike@mikemyersmusic.com and let's get started!

Rates
Songs under five minutes - $125 (note: additional charges may be added for unusual complexity or for failure to provide a chart or lead sheet)
Songs over five minutes - adjustable rates available
First set of revisions/edits - Free!
Second set of revisions/edits - $25
Added percussion parts - $25 or variable depending on number of parts and complexity
File transfer using my secure studio server - Free!
UPS Shipping and handling (if desired)- $5

Agreement
After our initial contact, a 50% deposit is due, either by PayPal or mail.
Next, you provide the following:
A scratch track with or without drum machine parts
A track for me to use when I record my parts which preferably includes a click track (with no drums)
A drum chart or lead sheet (I can probably get by without this if necessary but it would be extremely helpful)
Any special instructions, such as: groove or fill ideas; desired drum brands, sizes, extra percussion parts, etc.
After completion, an audio file will be uploaded to my secure studio server for you to download and approve.
If additional recording or editing is necessary, I will provide one redo (which can involve a number of edits)
After that, additional recording and/or editing is subject to an extra charge.
Upon final approval, you remit the remaining 50% balance before taking possession of the audio tracks.
Next, I will upload a folder to my secure studio server with all of your audio files. Tracks are available in a variety of different formats: WAV, AIFF, or Sound Designer II. Please specify audio format beforehand.
I can isolate every instrument onto a separate track, record the instruments wet or dry, and/or provide a final stereo mix with effects, eq, moderate compression, etc.
Privacy Statement
Stated simply, I do not share your contact information or your music with anyone. However, I might ask for your permission to post an excerpt of your song(s) on my website in order to give your music and my drum performance(s) some free publicity. Again, I will not distribute anything without your permission,
home • bio • publications • cds • photos • contact • custom drum tracks • audio examples • humor • zit •