Mike Myers has been a driving force in the world of percussion education, arranging, composing, performing, and recording for over four decades. Born in 1957 in Lubbock, Texas (USA), Mike first became involved with music at the age of three. He formally began music study at age 11 on percussion at a local music store. He was greatly influenced by rock music of the late 60's and early 70's and the fusion movement of the 70's. Major influences include: Emerson Lake and Palmer, Frank Zappa, The Doobie Brothers, Chicago, Gino Vannelli, Kansas, Triumvirat, Steely Dan, Dan Haerle, The Dregs, Kit Watkins, Chick Corea, T
he Brecker Brothers, Pat Metheny, Yes, The Who, Jethro Tull, and many others.
Growing up in Lubbock, TX (Buddy Holly's hometown), Mike developed a solid melodic and rhythmic foundation in music through his exposure to: jazz, classical, high school and college band, rock 'n roll bands, orchestra, church music, musicals, and percussion ensemble. Mike began teaching private percussion lessons in 1975 and built his first home studio at age 19. He obtained music degrees from Texas Tech University and The University of North Texas. As a professional musician, he has traveled all over Texas for the past 40+ years, teaching and performing.
Mike Myers also heads a percussion publications company which features his acclaimed beginning drum method: Percussion Precision: The Inside Track as well as numerous percussion ensemble compositions and arrangements which are perfo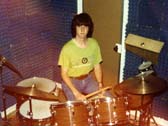 rmed all over the USA and abroad. These performances have received critical acclaim from around the world. As an artist, Mike Myers has released three solo recordings: Sonic Frontiers (1992), Myriad (1996), and The Big Picture (2013). In addition, Mike has also recorded six compact discs for Drop6 Percussion Publications and has produced and performed on numerous other CDs, including a 2004 release for Jamey Abersold's play-along series featuring the music of Dan Haerle. His magazine articles have appeared in Modern Drummer, Rhythm, Southwestern Musician, and Goldmin.
Today, Mike spends most of his time juggling various projects in his Denton, TX home studio, working with the latest in computer and digital recording technology. He is currently working on a long-term project, adapting many of Frank Zappa's compositions for percussion ensemble. He also teaches percussion lessons, judges at music contests and plays professionally all over the Dallas/Ft. Worth area in several jazz big bands. Mike Myers endorses Vic Firth Sticks and Mallets.
Additional influences and biographical info...
home • bio • publications • cds • photos • contact • custom drum tracks • audio examples • humor • zit •